A pair of United States Senators say the Federal Reserve made a "grave error" when it comes to their decision to hold off releasing the results of bank stress tests, or sensitivity analyses this week.
Senators Elizabeth Warren (D-Mass.) and Senator Brian Schatz (D-Hawaii) sent a letter to Federal Reserve Chair Powell and Vice Chair for Supervision Quarles which outlined their concerns as to the current stability of the banking system as a result the COVID-19 recession.
Members of the Senate Banking, Housing, and Urban Affairs Committee say a "lack of transparency and inaction" are "disturbing in the context of recent reports that the Fed is urging Congress to give regulators the authority to roll back critical capital requirements."
The senators say those requirements were put in place to maintain the stability of the financial system as a result of the last financial crisis.
With the crash of 2008, regulators designed "stress tests" aimed at gathering key information metrics which would provide guidance on how banks perform under various scenarios and economic pressures.
The Fed announced the details of these tests back in February at a time when the full extent of the economic damage caused by the COVID-19 pandemic was on the radar,
This year's scenario was designed to model adverse economic conditions such as an unemployment rate which might peak at ten percent and quarterly declines in Gross Domestic Product (GDP) capped at 9.9 percent. But by April of this year, unemployment stood at 14.7 percent and estimates indicate the GDP may decline as much as 35 percent during the second quarter.
Critics say that it was clear by March that the "stress tests" were no longer likely to provide accurate measurements for the impact on the banking system.
In attempting to gauge the possible results of COVID-19 on the banking system the Fed amended their proposed "sensitivity analyses" to include metrics how banks would fare under three separate hypothetical economic models regarding the pandemic.
In what the Fed refers to as a scenario for a "W-shaped" recovery – which is the most pessimistic scenario of the three models – the Fed outlined a dire prediction as to the banking system's ability to react to potential losses.
A V-Shaped Recession describes what would in essence be our best-case outcome. According to a survey done by EY, 38% of companies believe that our economy will rebound just as quickly as it declined (therefore creating a 'V Shape' in our analysis charts). However, this scenario strongly depends on human behavior and our ability to maintain and abide by social distancing guidelines. The 1990s seem to be the best example of a V-Shaped recession that involved eight months (July 1990-March 1991) of economic decline followed by quick and consistent economic growth. It's important to remember that a V-Shaped Recession does not account for the change in human behavior (which is what would have to happen in order for a V-Shape Recession to be possible); but simply economic growth (Chart courtesy of http://econbrowser.com/archives/2018/12/the-1990-91-recession)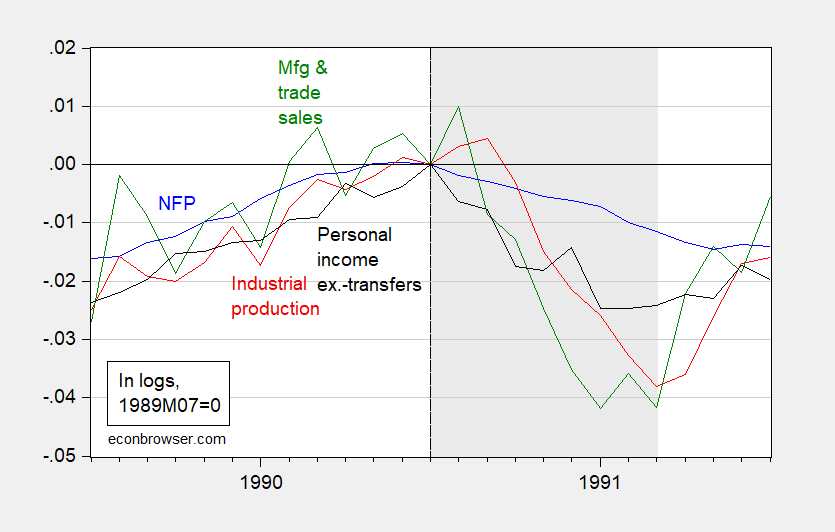 A U Shaped Recession would be similar if not exactly the same as what many of us witnessed in the Recession that lasted from December 2007-June 2009. A sharp decline in our economy followed by employment growth that struggled to resume to pre-recession levels. Experts from EY say that 54% of companies believe we could be facing another U-Shaped Recession if Covid-19 cases aren't brought under control. This would put us at a potential recovery start date towards the end of 2020 if not into the beginning of 2021. (Chart courtesy of US Bureau of Labor Statistics)
And finally, the W-Shaped Recession. It's what the Fed predicted yesterday (much to everyone's dismay), and as mentioned above; it is our worst-case scenario. Fearfully known as the "double-dip recession", the W-Shaped Recession isn't anything the US economy is unfamiliar with. With the oil crisis in 1979 and inflation rates at an all-time high, we fell into a recession in 1980 followed by rapid economic growth. Here's where it gets mortifying: because the inflation rate could not simmer on its own, the Federal Reserve increased interest rates; plummeting us into another recession that began in July of 1981 and continued until economic growth resumed towards the end of 1982. And this is what the Fed is predicting will happen again. If it does, we won't see economic growth return to stable levels until the end of 2021 if not later. (graph courtesy of Wikipedia)
The senators and other critics say the Fed's failure to release the results of worst-care scenario for individual banks and has deprived policymakers and the members of the public critical information about the health of the banking sector overall.
What some critics found most distressing was the Fed's decision to not act to suspend dividend payments. Banks will be allowed to continue paying their dividends calculated by looking back at a previous net income.
The senators say this failure to release results of the stress tests is a "grave error" which may result in "serious consequences for financial stability amidst a severe recession."
The critics say banks should be required to conserve capital as a measure to confront "future losses and to support lending to businesses and households."
We pledge to make our research and articles free of bias, simple to understand, and packed with explanatory information we believe you can use. BanksBestRates is a site that promises to report only important truths in today's ever-changing financial markets around the world without regard to partnership or advertiser input.

Our focus is on you and your financial information needs while remaining steadfast in integrity and honesty.